About bygrowers
bygrowers is a strong player on the European market and, after the merger in 2014, counts among the largest market gardens in Denmark. We collaborate closely with leading trendsetters in added-value products in Europe to be able to give our customers a wide and contemporary product range. Continuous product development is a matter of course for us, and we constantly work on product improvements. We demand a lot not only from our own employees, but also from our suppliers.
bygrowers is one of Denmark's leading and largest  producers of, e.g. Kalanchoë, Calandiva, Poinsettia, and Osteospermum. All of our cultures are grown in flexible  production areas and with lots of passion throughout  the whole cultivation process, from cutting to finished  product. Our large volumes and flexible production areas also allow us to accommodate each individual customer inquiry, including, e.g. special desires about pot sizes, added value, mix or other crops.
In short, we do not only cultivate some of the market's best and most durable plants – that appeal to markets all over Europe – but we also generate growth. What our customers get is a strong partner with more than 140 dedicated  employees, an overall greenhouse area of 215,000 m², and an annual production of more than 30 million pot plants. We are also MPS-ABC, MPS-GAP, MPS-SQ, and GRASP authorized.
Packaging options
bygrowers produces not fewer than 26 different cultures in several different pot sizes available within each individual culture. We do this in order to accommodate our customers' needs and to maintain a wide and varied range. But bygrowers does not supply 'just' plants. We provide tailored solutions that add value to all segments:
Added value
Ready-for-sale container solutions (CC, ½-CC and Euro-CC)
Private label
Label solutions
Mixed boxes with different cultures
Private label
bygrowers is a customer and sales-oriented company that desires close and constructive cooperation with customers and partners. This is why we offer the option to deliver their plants in the customer's own packaging and brand.
The story behind bygrowers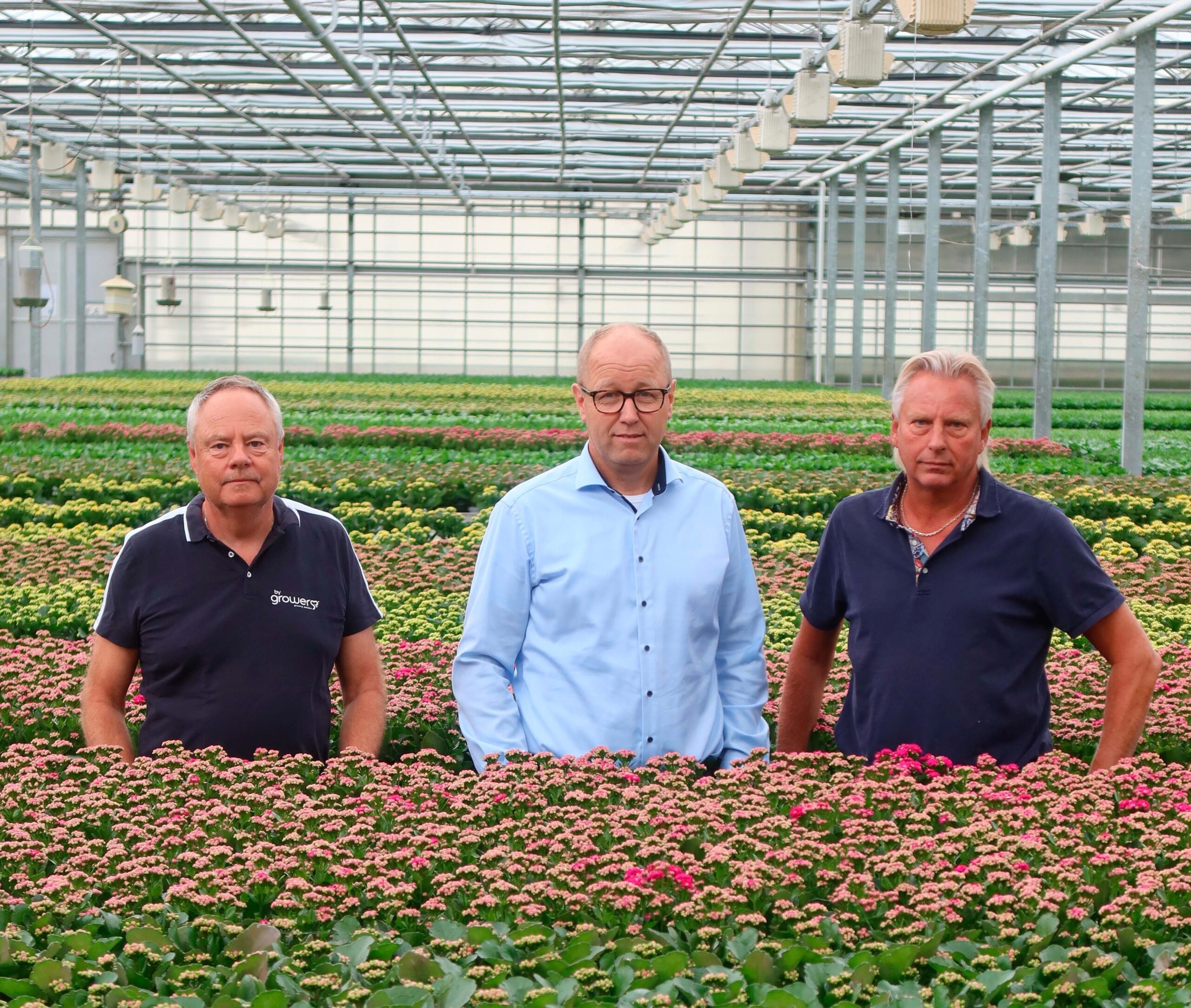 bygrowers was founded in 2014 through a merger of the two nurseries, Kærby and Abildgaard. The partnership had already begun in 2012 when the two nurseries initiated collaboration. Following few nursery acquisitions in 2012 and 2013, the final merger between these nurseries occurred in 2014. In this way, bygrowers was founded with Claus Petersen, Preben Damm, and Nicolai Abildgaard in leadership. Since the merger, additional production areas have been added, and based on a strong strategic plan, the production has been oriented towards a significantly broader range of products and targeted customers.
In light of this merger, where we developed a unique collaboration model, acquired new production facilities, and expanded our product range, we were awarded the title of 'Gardener of the Year' in 2018.